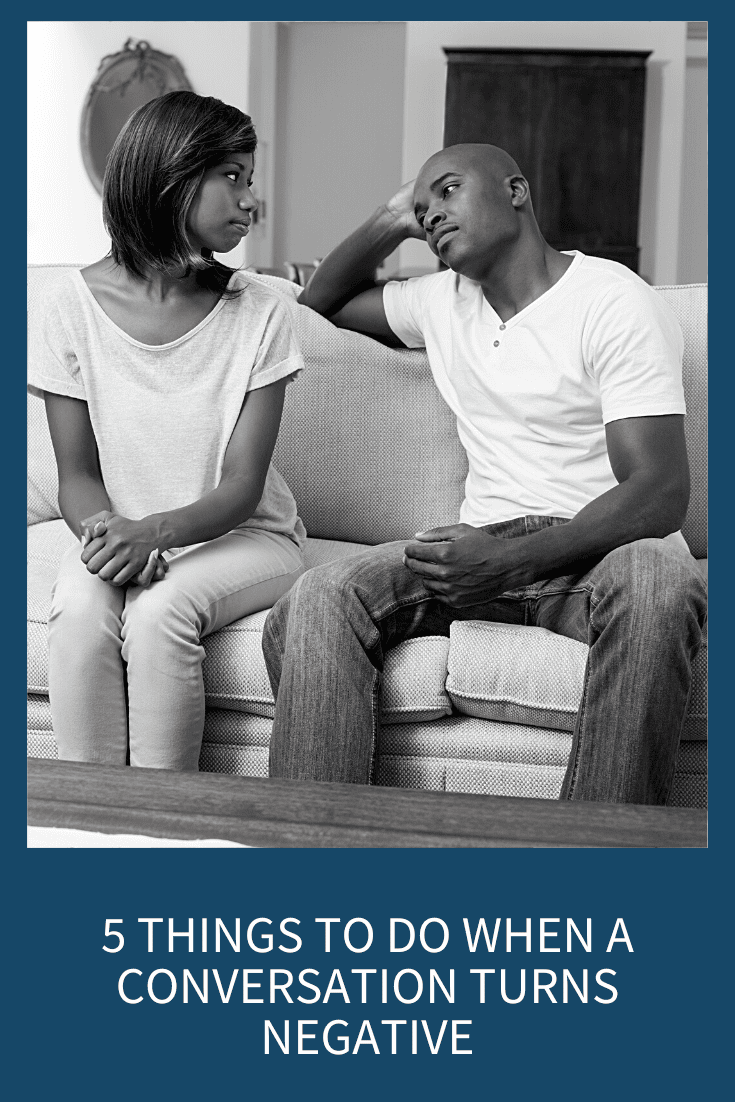 We've all been there. You're trying to express your feelings and then your partner gets angry and defensive and says, "What about my feelings?!" Or maybe you're trying to assert yourself with a usually bossy friend by saying you'd actually rather see a different movie tonight and she replies, "It always has to be your way!" WTF?! You end up feeling resentful, misunderstood and, worst of all, hopeless that things will ever change. Today, I'm going to break down what's really happening when the conversation turns negative and the five things you can think and do so you can walk away from the conversation feeling calm and empowered.
9-minute read.
The 5 Things to Know and Do When a Conversation Turns Negative
1. It's About Them, Not You
When anyone reacts to something you've said, it's 100 percent about them, not you. And do you know how you know this is true? Because you can say the same thing to ten different people and get ten different reactions! And the same goes for your own reactions because everyone's reactions are all about personal beliefs and definitions.
If my supportive friend tells me that my new haircut is cute, I'll believe her and feel good. However, if that mom who hates me tells me the exact same thing, in the exact same tone, I'm going to think she's giving me a dig. This is the same reason that you and your partner can be in the same car, in the same traffic, and they're upset and raging while you're calm and don't understand why they're so upset.
If the person you're speaking to gets negative in any way, that's about them, not you. I know it's hard to think that way (especially when they're blaming you for how they feel or attacking you in some way), but it's the truth and a new perspective you've GOT to adopt so you can stop taking their reactions so personally.
The key is to be mindful (yes, I'm talking about mindfulness again) so you can stop yourself from reacting to their negativity. The goal is that someone would start being negative with you and you'd stop and think, "That's an interesting reaction they're having. It's not about me."
I've talked about this before, but it bears repeating right now. When someone is having a negative reaction, what they're doing is resisting. They're resisting what you're saying or feeling and it's because of their own shit.
There are four general categories of resistant behavior with clear signs (once you know what to look for):
Arguing (challenging, discounting, hostility)
Interrupting (talking over, cutting off, other person jumping into the conversation in a defensive manner)
Denying (blaming, disagreeing, excusing, minimizing, pessimism, reluctance, unwillingness to change)
Ignorance (inattention, non-answer, no response, sidetracking)
If you see ANY of these behaviors, you're dealing with resistance and this conversation is going nowhere fast. You're in a power struggle and you need to shift the energy. The first thing to do is to notice that it's happening (there's that self-awareness and mindfulness I keep talking about again). The second thing to do is … something else! I'll get to the "something else" in a moment.
2. They're Scared
When someone is being resistant in any way, when they give you a throwaway answer or become hostile or when the conversation turns negative, they're letting you know they're scared. They're showing you their overwhelm, their lack of tools to cope with their frustration and their fear because they don't know what to do to create something different.
The key here it to work on your empathy game. The other person is in pain and coming from fear. What are they afraid of? What are they really saying to you?
I'm going to use some examples that people have sent in of when the conversation turns negative and translate what's really being said:
"I don't know what to do anymore" means "I don't have the tools to problem-solve this and I want you to fix it."
"You'll never change" means "This isn't working, and I don't want to look at myself. You're supposed to make me happy and you're not."
"It doesn't matter anyway" means "It matters a lot and I want it to matter to you too."
"You don't even love me" means "I don't know why you'd love me. I can't feel love from you because I have an unhealthy definition of love."
"You don't care what I think" means "Whenever we speak, I don't feel like you listen to me. You don't understand me."
"You don't include me in your decisions" means "I feel rejected and abandoned by you."
"It always has to be your way" means "I don't know how to compromise or negotiate. I don't know how to put myself in your shoes and find middle ground."
"That's dumb" means "I'm terrified of ever being wrong. I've got some old shit about this even I'm not aware of. This is something my parents said to me so I think things are black and white, right and wrong, and I feel very unsafe being wrong."
"Do you hear how stupid you sound?" means "I have such low self-esteem (even though I seem so sure of myself and domineering) that I'm afraid of you. I'm afraid of you leaving because I don't feel lovable or worthy. I'll do anything not to be vulnerable."
"Wow. I can't believe that's how you feel" means, "Wow. If you feel that way, it means I'm an asshole and – since my self-concept is that I'm a good person, you must be wrong so I'm going to really push back because I feel attacked and like you're calling me a jerk and I'm not!"
3. You've Co-Created This Relationship
I know you don't want to hear this, but this relationship is where it is because you've helped make it this way. You need to take full responsibility for your side of the street. If you're thinking, "Nothing will change unless my partner changes" or "I'm never going to be happy at this job as long as I have this boss" or "I'll never be able to be close to my mother because she just doesn't understand me" then you're doing just what the other person is doing: resisting in some way. You're giving up, blaming and maybe even acting like a victim. And you know that Abby don't play that!
The reason the relationship has gotten to this point is because you haven't made or held your boundaries.
You can make and talk about your boundaries all day long but if you don't hold them, they're useless. If the other person doesn't respect your boundary, remind them of it right then and there. They need to see, in the moment, how their behavior is trampling your boundary. Your issue is that you've been upset with them for not holding your boundary but you haven't held your boundary! You haven't respected your boundary and now you're mad at them for not respecting it? Really?
And I don't want to hear any victim language. If you're afraid you'll lose your job if you say something to your boss, then get your damn resume together and start looking! If you're worried your partner will leave you if you draw a boundary, then what are you doing in a relationship without respect and support? And, by the way, in my almost 40 years of doing this work I have yet to have someone lose their job because they set a boundary and I have only seen a partner leave once or twice in all that time (and good riddance I say, with love of course). What I've seen instead is someone standing up for themselves and then other people fall in line!
But there needs to be some response, some consequence when another person doesn't respect your boundary and that's 100 percent on you. You need to stop talking or threatening and start taking action when a boundary is crossed: hang up the phone, go home, leave the house or even block their number for a while. If you must communicate with this person, you could tell them that you now need to only interact via email – that they've lost the privilege of having direct conversations with you.
And remember, sometimes the action is about you moving on. Start looking for your own place, saving money or go on some job interviews.
The key is not to be angry with them while you hold these boundaries! 
When a conversation turns negative, don't ascribe meaning to what they're doing ("He knows that's making me angry and he's doing it anyway!"). You've co-created the relationship to be this way. You've been letting them trample your boundaries for days, months or years – don't expect it to change overnight. They're going to push those boundaries unconsciously or unwittingly. You don't need to be mad, just firm. I always use the mantra, "This person is doing the best they can with the tools they have" just as you were all those years when you allowed them to treat you poorly. It's just time to change.
4. Shift the Energy with Questions
When a conversation turns negative or someone makes a negative comment, we often jump to either defending ourselves ("You don't appreciate me" is followed by a list of all the ways you've shown your appreciation) or giving them reassurance ("You don't really love me" is followed by you telling them you love them so much).
Instead of defending or reassuring, ask questions! That's where the gold is.
Especially try to ask open-ended questions — these are questions you can't answer with "yes," "no," "fine," or "good."
Here are examples of open-ended questions:
"Can you tell me more about what you mean?"
"What do you think we could do to improve this situation?"
"Where should we take this conversation next?"
"What's the perfect thing I could say that would let you know I'm listening and hearing you?"
"What would you like the next step to be?"
"I want to know, can you really not think of one time I've listened? I want to get clear on your definition of listening."
5. Shift the Energy with Your Mindset
When a conversation turns negative and you're hearing things like, "Nothing ever changes" or "I'm sick of this," it's easy to feel abandoned, rejected or dismissed. Those are all fear-based feelings and you're not going to have a productive conversation with both of you coming from fear. It's hard, but it's critical not to take things someone else says personally (even when they're being very personal and blaming you for their unhappiness or for a particular issue).
When someone is being negative, they're coming from their fear-brain (your amygdala), which only knows how to do three things: fight, flee or freeze. The rational, problem-solving part of the brain (the prefrontal cortex) literally can't work when the amygdala is activated.
So, it's your job to get into the right frame of mind. You've got to shift to what I call a Love Mindset, which really just means that the fear part of your brain is turned off so the rational, thinking, compassionate part of your brain can turn on.=
Daily meditation and mindfulness are the best way to learn to regulate your emotions and be better, in the moment, at acting, not reacting. You could also practice a Loving Kindness Meditation. Your job is to be the dominant vibration in the room. Instead of calibrating to their crappy, negative place, have them calibrate to your loving, open, patient energy.
If you're ready to dig a little deeper and add to these tools, you want to download my free Dealing with Resistance and Conflict in Relationships handout
Resources for When a Conversation Turns Negative